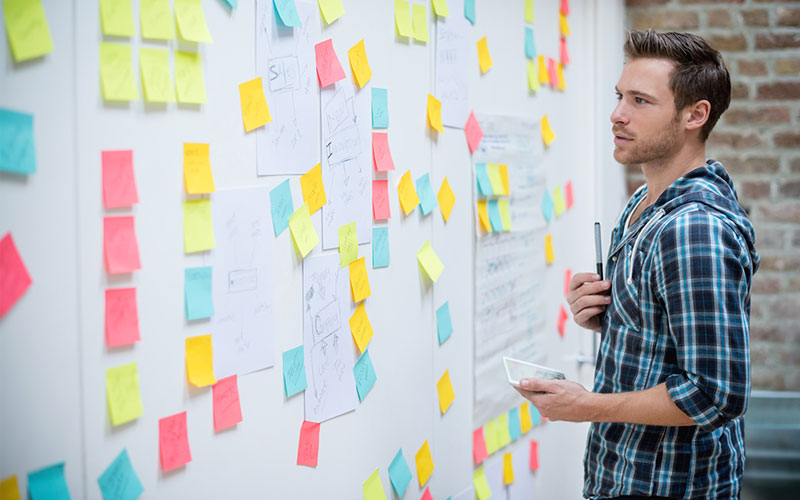 Design Thinking
Course Director

Rody Vonk
Speaker, Trainer and Facilitator

Overview
The hype around innovation is hard to miss. The pressure on businesses to define an innovation strategy and the process that delivers it is growing, as the success stories of innovative organisations like Airbnb and Netflix continue to be well-documented.
The key question for many organisations is how to start innovation, knowing that doing nothing is not an option in the fast-changing world we live in today. But daily routines, time and budget are barriers to take first steps.
Starting innovation requires a clear process, the right mindset and skills like complex problem solving, critical thinking and creativity (according to research of the World Economic Forum). Design Thinking is both a process and a mindset to solve problems for people in complex and quickly changing environments.
In this programme you will develop the necessary skills using tools and techniques for successful product, service or process innovation. This high-energy, high-pace learning-by-doing program will help you develop or strengthen your entrepreneurial skills needed to make you future-proof and will provide you with practical tools and techniques needed to start innovation.
Who Should Attend
This course is for anyone that is involved in innovation, whether it is the core of your job (e.g. being an innovation manager, innovation team lead etc.) or if you participate in projects or programs aimed at creating new value (by developing new or improving existing products, services or processes) for customers.
Attendees will go through a full Design Thinking process to understand the why, how and what of each of the five process steps. They will work with hands-on tools that help and guide them in a clear and effective way and which are useful to get innovation started while reducing risks.
Benefits of Attending
Implement Design Thinking principles, tools and techniques to the business
Understand user needs to reach the most desirable solution
Solve problems based on stakeholder analysis, interviews and competitor research
Prototype first solutions for your new business opportunities
BC8676JO
Design Thinking